Are you ready for next archery season? Here are a few ideas on how to best prepare yourself and your equipment to ensure the best season yet!
Shooting Practice
The best thing you can do is practice, practice, practice. Shoot at home with one of the many targets we sell or schedule a time at one of our ranges. To schedule range time, call your local Archery Country. Below are a few practice targets we offer.
The 365 Archery proprietary "Self Sealing" foam provides for superior stopping power even for crossbow bolts. The outer target cradle, that contains the center core, provides for an increased target arrow area providing additional safety for errant shots and reducing or eliminating the need for additional back stops!

SHOP NOW


The GlenDel ® Buck 3-D Archery Target with vital inserts provides one of the most realistic practice models around. Based on the size of a 200 lb. live deer, this target captures the form of a deer and has a functional vitals area to ensure correct targeting by the hunter. The vitals area can also be replaced after wear, and the head is removable for enhanced maneuverability.

SHOP NOW


Experience the majesty of this western favorite with the Elk target face from Arrowmat™. The 17" x 17" mat, features durable self healing foam rubber that will face up to 1,000 shots. Grommets in each corner make for easy hanging.

SHOP NOW

Bow Tuning
Our archery pro shop services are handled by expert bow and arrow techs. We will get your bows of all makes and models tuned up and accessories installed as you need. If you purchase accessories from our location its free installation. Whether you need bow tune ups or expert advice on what should be done we can help. Learn More
Bow Service and Setup

Complete Bow Tune and Setup
New bows and accessories installed
Bow setup
Bow tune ups
Bow safety inspections
Bow string replacements & installations
Bow site and rest adjustments

Arrow Service and Setup

Arrow cutting
Arrow tips and broadhead suggestions
Arrow fletching and vanes
Draw length measurement
Arrow consultation
Any arrow question
Any arrow service
Join a League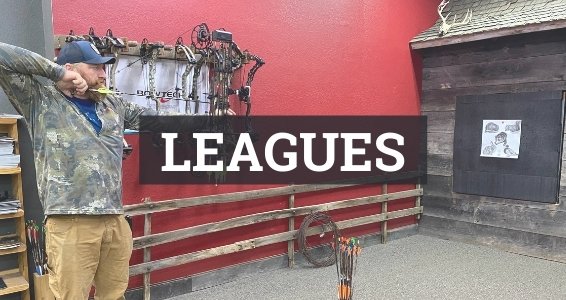 Archery Country leagues begin in January! Join fellow archers as you sharpen your skills and compete against each other for prizes. We offer a range of different leagues for all different skill levels at our three locations in Rogers, Waite Park and Brainerd. Learn More
League Offerings
Bow Hunter League - 2 Person Teams, you can either choose your partner and we can assign you one - will be a 11 week league and will be a mixture of targets. (St. Cloud, Rogers and Brainerd) Cost is $100 per person.
Techno Hunt League - 2 Person Teams, you can either choose your partner and we can assign you one - This will be a 12 week league on our techno hunt machine, each week the two person team will shoot 30 arrows. (Brainerd Store Only, call our Brainerd Store to sign up).
Kids League - will be a 10 week league which will start the same time as our bow hunter leagues. (All stores) Cost is $50 per person.
Target League- will be a 10 week league with target bows and equipment, call a store for more details.
Archery Equipment - Archery Supplies - Archery Gear - Archery Accessories
Leader Bowhunting supplies and bowhunting gear for 35+ years
Compound Bows - Crossbows - Archery Arrows - Bow Releases - Bow Sights - Hunting Blinds - Game Calls
Recent Posts
The Kuma offers the best of both worlds bringing together speed and comfort. This hybrid cam bow …

Crispi Boots are designed for backpacking, trekking, hunting, mountaineering, climbing, hiking an …

If you've never hunted "sheds" before—as in shed antlers, the racks cast aside by male members of …