Best Crossbows Under $1000
Are you new to crossbow hunting? Wondering if it will be something you enjoy? Wanting to try it out, but not wanting to spend thousands of dollars in case it isn't your thing? You're in luck! At Archery Country, we make sure to have a good price point for all archers. Getting into crossbow hunting is definitely different and making sure you enjoy it before fully investing isn't a bad idea. In this blog, we will go over 3 great options for crossbows under $1,000.
Wicked Ridge Blackhawk 360 - $399.99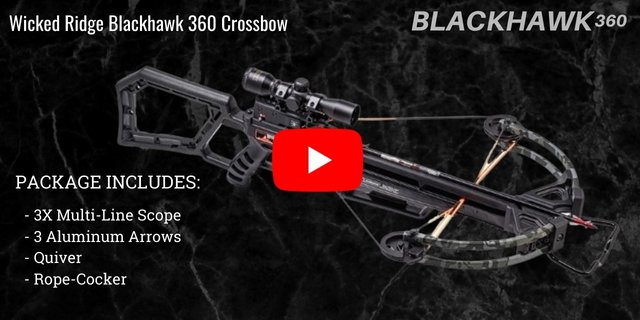 Lowest-Priced American-Made Crossbow. Who says that a budget friendly hunting crossbow has to come from China? Meet the Blackhawk 360. Born and Bred in the US, this bow is just like you… it hunts hard to get the job done, and is proud to be American! Built for success in tight crossbow hunting situations, the Wicked Ridge Blackhawk 360 features a 15-inch wide, 175-pound bow assembly with 11" WRX limbs powered by heavy-duty machined 5S cams that elongate the power stroke and increase cam rotation to produce speeds of up to 360 fps with unmatched downrange accuracy. With all of these features, the Blackhawk 360 is the best affordable crossbow on the market today! Weighing in at only 6 lbs., this crossbow is very easy to maneuver in the field. The fully integrated 4 grip is backed by elongated safety wings to keep hands safe below the bow strings path. The Dry Fire Inhibitor protects this crossbow from damage in case it is fired without an arrow.
Wicked Ridge Rampage 360 - $599.99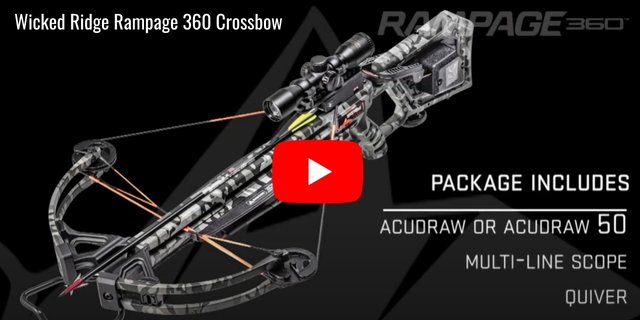 This is the industry's first entry-level crossbow with a built-in cocking device that allows you to effortlessly and accurately cock your crossbow. The Rampage 360 shoots up to 360 feet-per-second and measures 15-inches wide. Delivering unmatched out-of-the box accuracy and unparalleled American-Built quality, it is the premiere entry-level crossbow on the market and is also a great youth crossbow option. This crossbow is very lightweight - only 6 pounds. It's elongated grip is backed up with a safety wing to help keep your hands safe while shooting. It also features a fully enclosed trigger guard for even more safety.
Wicked Ridge Raider 400 De-Cock - $799.99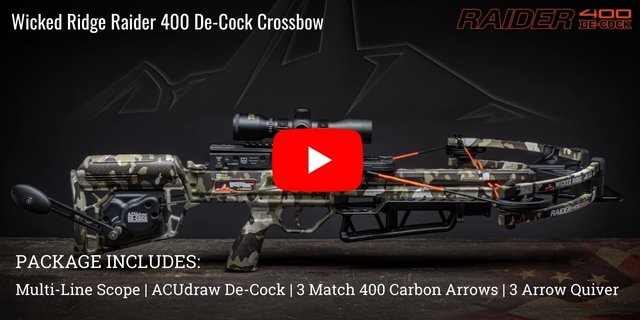 Safe De-Cocking at Affordable Price? Yeah, we just did that. Coming in at 6.5 pounds, meet the ultra-light crossbow, the Raider 400 De-Cock. Equipped with the revolutionary ACUdraw De-Cock for safe de-cocking, D1 Trigger, the American-Built Raider 400 De-Cock combines the convenience of safe de-cocking and speeds up to 400 feet-per-second to create an affordable crossbow for all hunters that outperforms its competitors. The light crossbow is equipped with the D-1 Trigger – a 2-stage, zero-creep design that delivers a consistent crisp, 3.5-pound pull. Forget the hassle of carrying a target to discharge your bow, or risking damaging an arrow by discharging it at the end of the hunt – the ACUdraw De-Cock is simple, silent, and safe and allows you cock and safely de-cock with easy 5-pounds of force. If you don't take a shot, push the de-cock button and safely de-cock the crossbow with the built-in ACUdraw De-Cock. While de-cocking, you can remove your hand from the handle at any point and it will stop in its place, eliminating the potential of injury or damage that may occur with other de-cocking systems on the market.
Wicked Ridge Raider 400 De-Cock
Axe AX405 Crossbow Package - LIMITED TIME OFFER - $799 After Mail-In-Rebate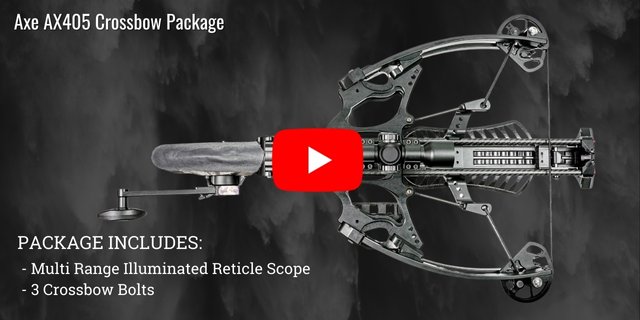 ORIGINALLY $1,599.99, ON SALE FOR $1,299!
Purchase between now and August 31 for an additional $500 Mail In Rebate!
Compact by design, but colossal with its features, the AX405 crossbow is best characterized as; Performance. Optimized. At a compact and maneuverable 27.75-inches long and 10-inches axle-to-axle (cocked) the weight of the crossbow is centered over the shooter's hand by way of a balanced shoot-through stock and riser design and reverse limb system. This configuration empowers the most efficient part of the AX405 210-pound split limbs to deliver bolt speeds in excess of 400 feet-per-second, from just 13-inches of power stroke. A proprietary cam system is linked by cables that run parallel to each other, rather than from the top of one cam to the bottom of the other. This unique configuration eliminates cam-lean, limb torque and is further enhanced by an exclusive cable brace that engages the riser to aid in the limitation of flex away from the center of the crossbow. When combined, these features allow the string to move along the same plane throughout the entire power stroke. Unlike the one-piece aluminum rail concepts of conventional crossbow designs that rob speed, efficiency and bolt life, the stock of the AX405 eliminates the rail and utilizes dual carbon guide rods along the entire length of the stock. When combined with the shoot through riser and a roller rest on the bow's front end these features create a free-floating arrow system that mitigates contact, friction and torque along the arrow's entire path further enhancing efficiency, accuracy and speed output. Comes with a multi-range reticle scope with markings for 20-100 yards in 10 yard increments. Red/green illumination for different lighting conditions helps you see the reticle clearly. The scope features a wide field of view and is both shock and fog proof.
Archery Equipment - Archery Supplies - Archery Gear - Archery Accessories
Leader Bowhunting supplies and bowhunting gear for 35+ years
Crossbows | Crossbow Accessories | Crossbow Bolts/Arrows | Crossbow Broadheads | Crossbow Cases |