Posted by Archery Country on May 25th 2022
Being bitten by bugs while hunting is not only annoying but dangerous as we hear more and more about infectious diseases that are spread by ticks and mosquitoes. Sitka gear has now created a solution to this problem by creating the new Equinox Guard Collection. This line has bite resistance fabric, Insect Shield treatment and is designed from a hunter's perspective.
Ticks, chiggers and mosquitoes can ruin a hunt so Sitka put together the perfect balance of comfort and protection. In this blog we cover each of the new Equinox Guard pieces and its features that help keep the bugs away.
Let's start with the Equinox Guard Pant.
These pants look like a normal set of Sitka Subalpine pants, right? But they're not, these pants have a lightweight internal gaiter meant to be tucked right into your sock to prevent ticks and other bugs from crawling up your legs.
This gaiter paired with the Insect Shield; a high temperature treatment done to the garment to repel mosquitoes, ticks, ants, biting flies, chiggers, and midges makes these pants the perfect fit for those who want to forget their bug problems and have their mind fully in the hunt.
These hunting pants also have ventilation zippers on the sides to keep you cool on hot days.
Next is the Equinox Guard Hoody. This hoody has all the great features of Sitka's other lightweight hoodies like the built in face mask and breathable fabric.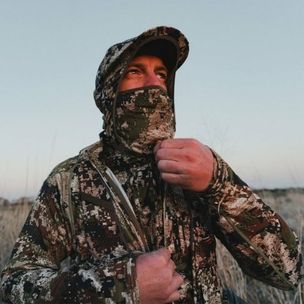 What makes the Equinox Guard hoody different is that it also has a long tail design for you to tuck into your pants to keep chiggers and ticks from getting under your shirt while out in the field. This hoodie also has the Insect Shield so no need to spray and wash, this protection is already built into the hoody and is good for 75 washes.
Last but not least, the Equinox Guard Glove. We all love a glove with the exposed thumb and index finger but this is the first to be paired with bite resistant fabric and an Insect Shield treatment. This fabric is still breathable and has an AX Suede fabric palm for grip.
This Guard Collection comes in multiple camo patterns so if you don't see the size or pattern you are looking for we can order in the exact Guard garment you are looking for, just call or stop in to any of our 3 locations.
We were lucky enough to have the opportunity to interview Chris Derrick the designer of the Sitka Equinox Guard apparel on our podcast. If you want to listen to Derrick and Wade go into depth about the designing of this line listen to our podcast here.

Want to get a better look at this long-lasting bug protection in camo clothing? Check out our YouTube video about the Guard Collection!