Posted by Archery Country on Feb 28th 2022
In the state of Illinois, permits remaining after the Lottery 3 Drawing will be available over the counter from license vendors throughout the state on a first-come, first-served basis beginning March 8, 2022. A permit is only valid for the one season identified on the permit. A spring wild turkey "Property-Only Hunting" permit is valid for the entire 32 days encompassed by the five seasons in either the Northern or Southern zones (depending upon where your land is located), but allows the taking of only one wild turkey. It is important to understand all of the laws and regulations in each state prior to hunting. For more laws and regulations in the state of Illinois, click here.
2022 SPRING TURKEY HUNTING SEASON DATES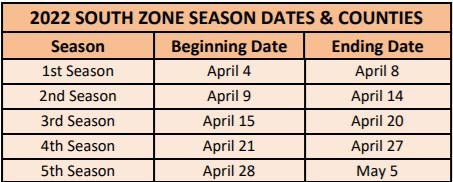 Archery Country sells everything you need for turkey season! Check out our selection of turkey calls, ground blinds, hunting clothes, and turkey decoys. Click here to learn all about bowhunting turkeys on our podcast!
Check Us Out On YouTube and Podbean!
Ep 35: Bowhunting Turkeys: Gear, Stories and Strategy | Ep 16: Turkey Hunting 101 With Matt Dykes