Posted by Archery Country on Oct 20th 2021
Other than shot placement, movement, and camo the only other thing that can ruin a good hunt is wind. Most big game animals have an amazing ability to smell and that can make getting close enough to them to take a shot very difficult. We thought we'd run through the scent control options that we carry here at Archery Country and how to use them so you have the best chance of going undetected while bowhunting.
Ozone Products
How does it work?
Ozone from an ozone generator can be an extremely effective tool to attack and reduce the viruses, bacteria, odors and other contaminants that build up.
Ozone molecules (O3) are inherently volatile and look for every opportunity to return to the natural state of oxygen (O2). When an OZ generator emits a powerful stream of ozone molecules into an environment they seek out and destroy odors, bacteria, viruses, mold, mildew, and more. Ozone is drawn to these odor compounds and micro-organisms and destroys them through the oxidation process (O3 loses one oxygen molecule and reverts back into O2).
After Ozone oxidizes, the odor compound that was once a nuisance is now broken apart – resulting in a clean and refreshed environment! The oxygen molecules can then be used over and over again in this cycle. This means no refillable cartridges, additional filters, or any other repeat-purchase accessories. Just turn on and refresh time and time again! ScentLok offers a great variety of ozone products for protection during your next hunt.
Our favorite ScentLok Ozone products:
These products are intended to be used prior to hunting.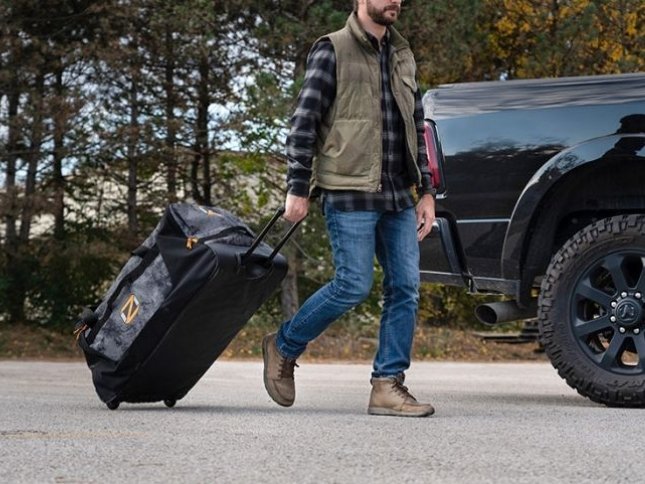 ScentLok OZ 8K Ozone Rolling Bag & Radial IQ Combo
Storing your hunting clothing in an ozone storage container is a vital step for success in the field. Our products are constantly adsorbing odors and contaminants in the air that surrounds them. Keeping your gear in the OZ 8K Ozone Rolling Bag + Radial IQ Combo allows the new Radial IQ ozone generator to destroy lingering odors and keep them from contaminating your gear.
---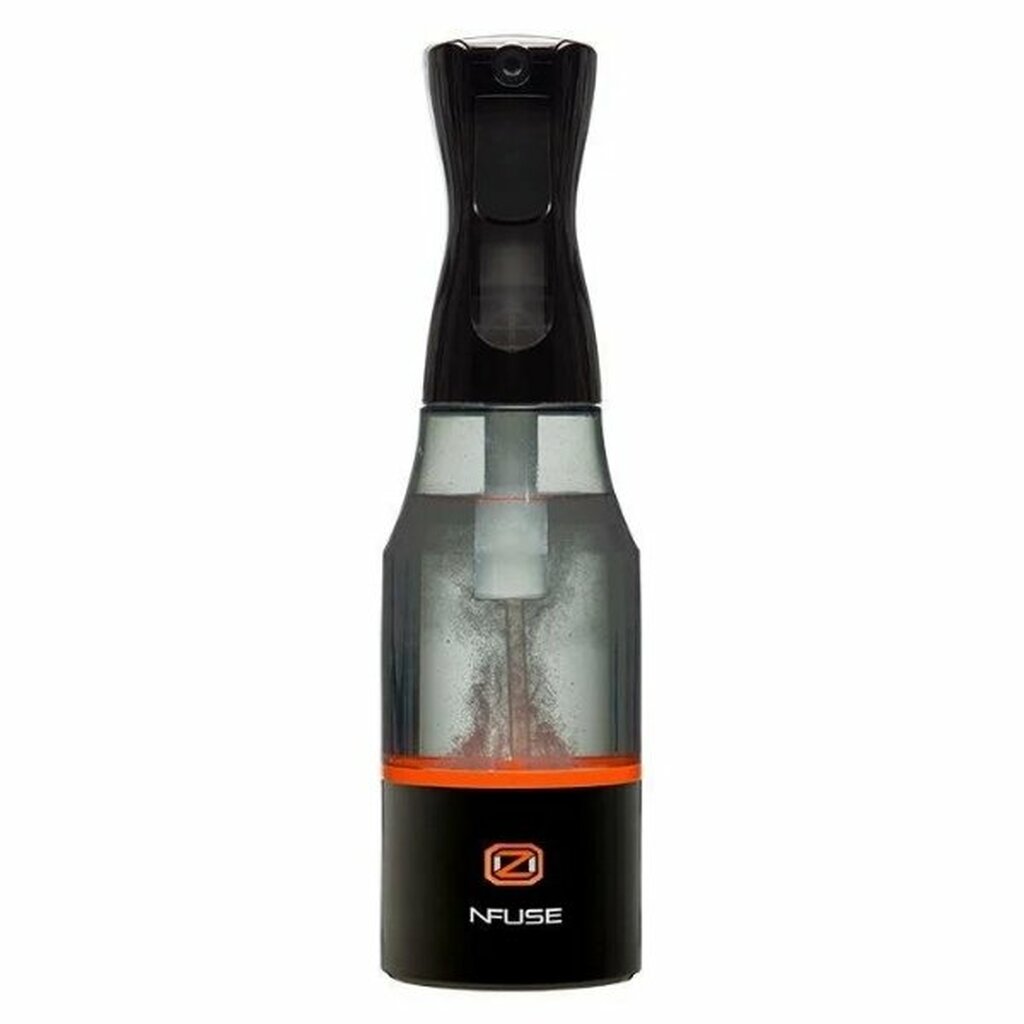 ScentLok OZ NFuse Ozone Sprayer
The OZ NFuse Ozone Sprayer transforms tap water into a powerful, effective and highly economical means of destroying odor-causing bacteria - deodorizing virtually any surface or area and reducing odor-causing bacteria by up to 99% in minutes!
---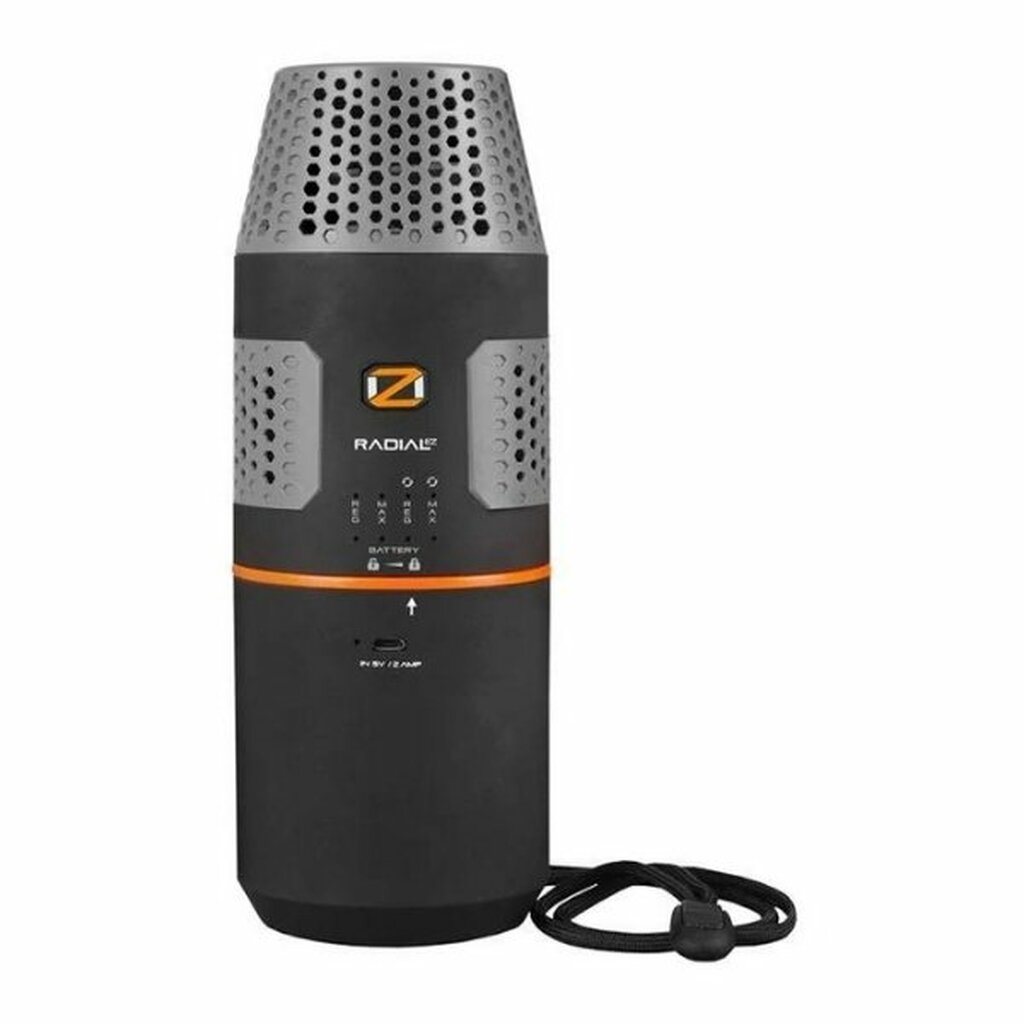 The OZ Radial EZ is ideal for your odor control needs, a perfect fit for camping, closets, medium-sized rooms, cabins, and more. This portable ozone generator was specifically designed to quietly seek out and destroy odors and bacteria in its path.
---
Odor Eliminating Enzyme Products
What are enzymes and how do they work?
Enzymes are active proteins found in all living matter, people, animals and plants. They are not living organisms themselves. The only things that are alive are the cells that create or produce the enzymes. Enzymes are crucial to basic life processes. If you could look into a cell, you would find a multitude of enzymes directing traffic or processes to keep that cell alive. Enzymes are nature's way of processing, kick starting or breaking things down. Dead Down Wind offers several options for odor eliminating enzyme products.
Our favorite odor eliminating enzyme products:
These products are intended to be used before or right before hunting.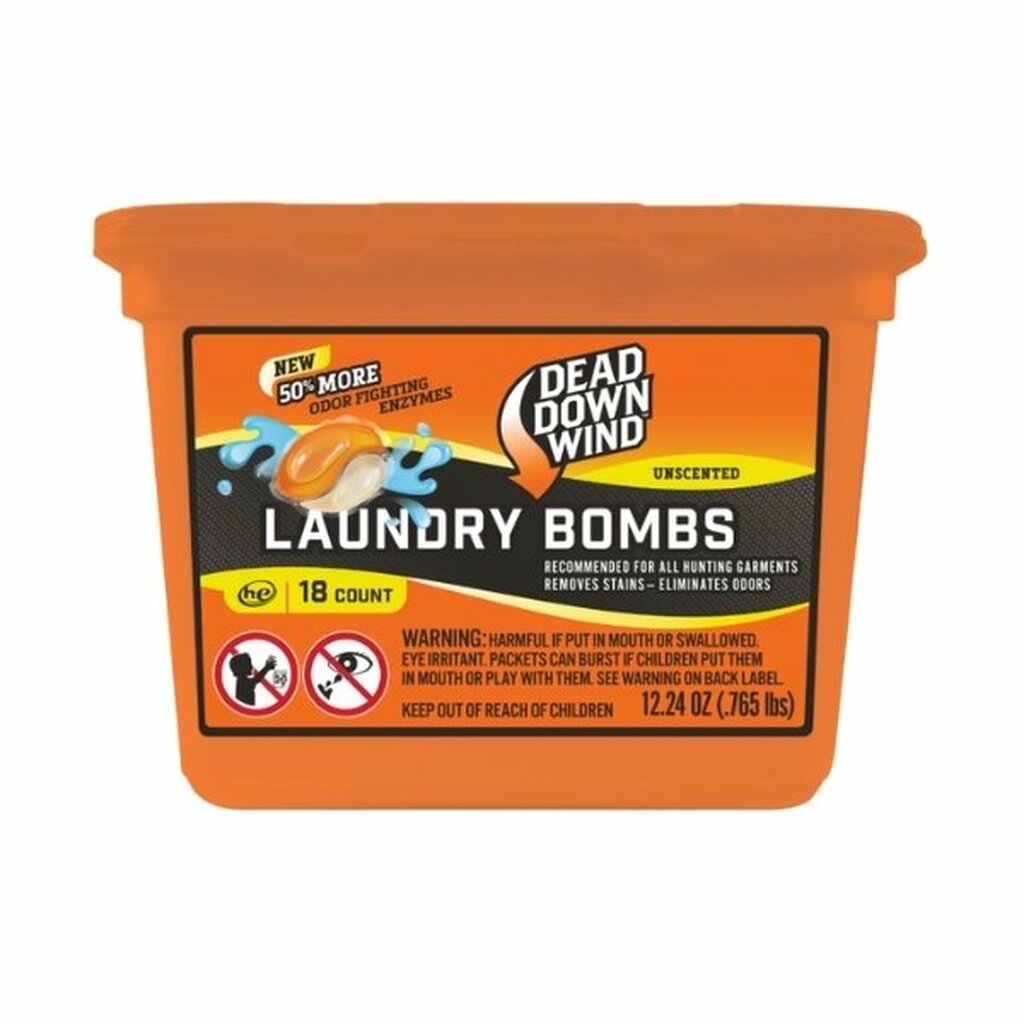 Laundry Bombs are new easy-to-use, water soluble multi-chamber packs that consist of Dead Down Wind's proven enzyme-based detergent, now with 50% more enzymes. Place a Dead Down Wind Laundry Bomb into the washing machine drum before adding hunting garments to remove stains, odors and even increase the longevity of your gear.
---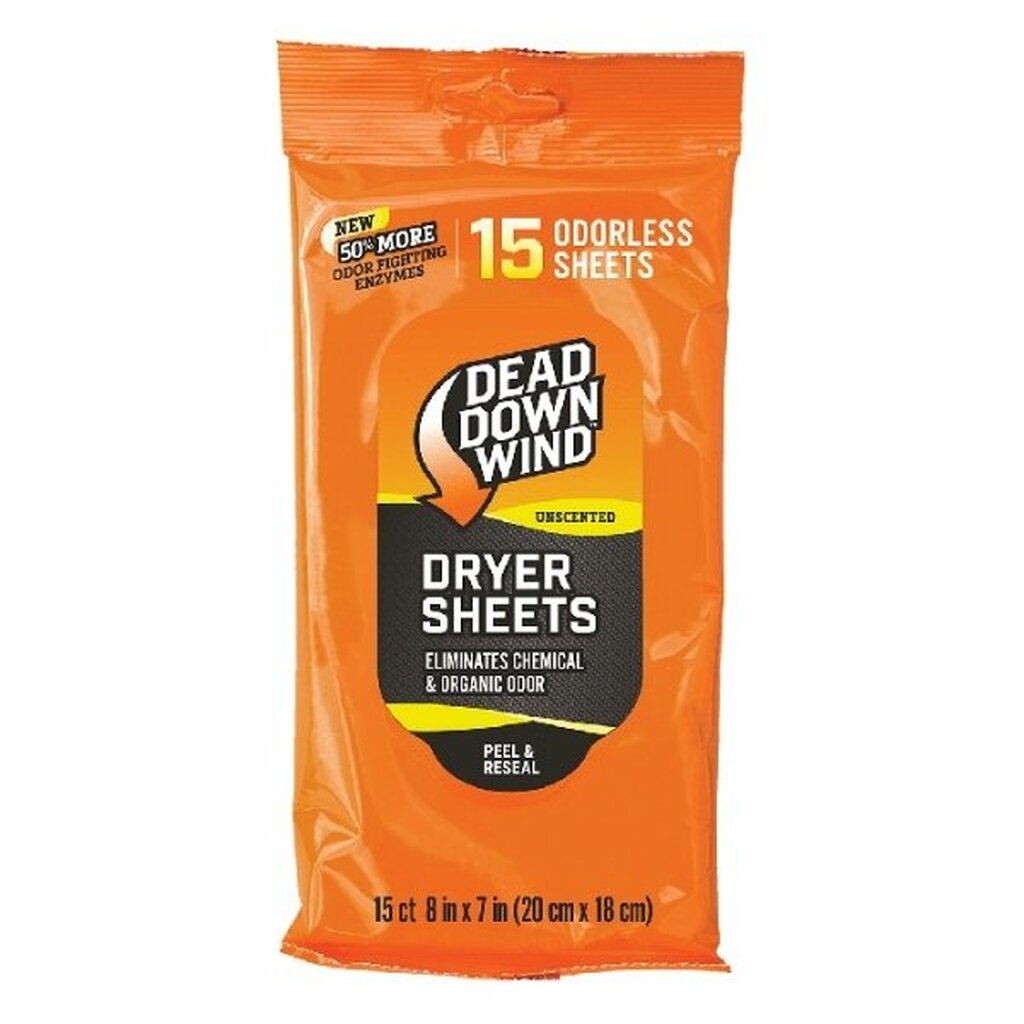 Dead Down Wind's Dryer Sheets deliver odor elimination coupled with anti-static performance - that's why they are wet coming out of the package. If you are using a regular dry sheet, then it probably isn't doing anything for odor elimination. DDW's Dryer Sheets are the only biodegradable dryer sheet on the market.
---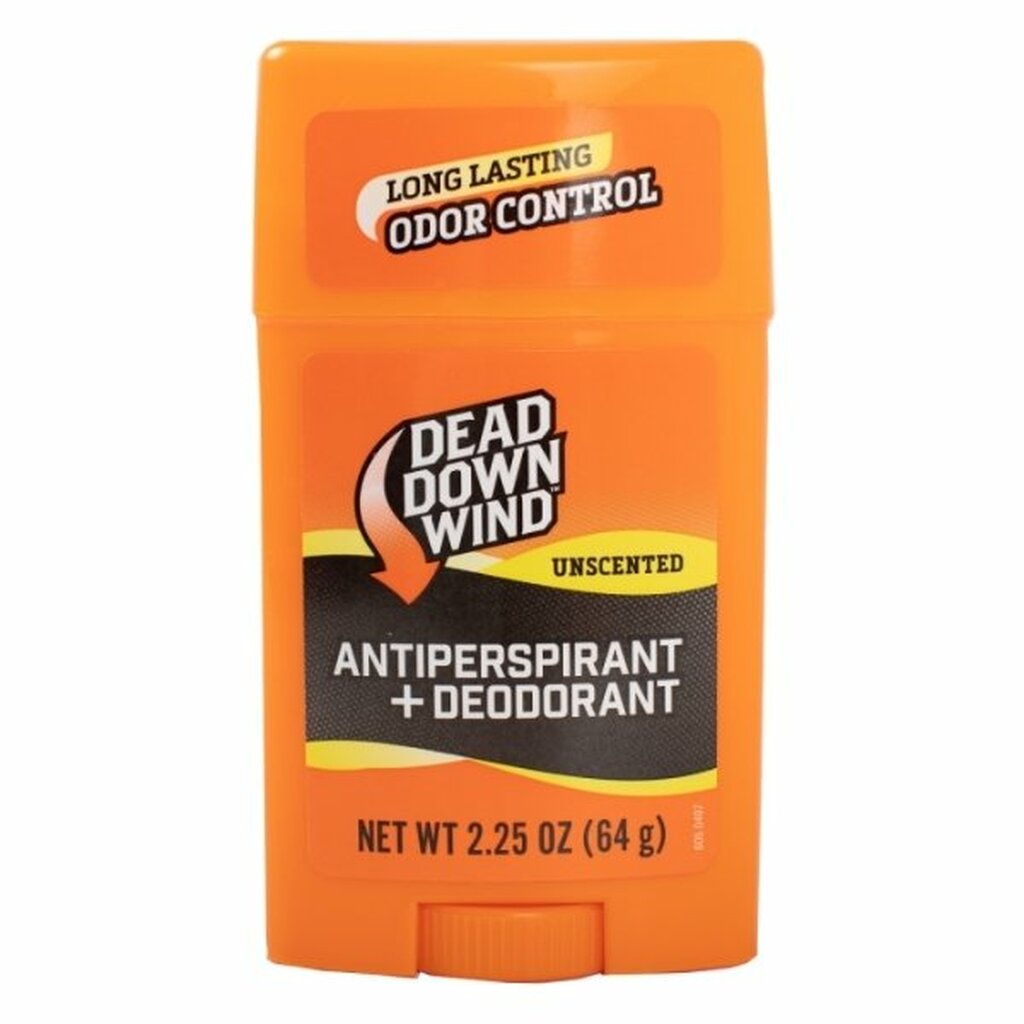 The second phase to the complete scent prevention system is hygiene. This is a crucial step that allows you to stop odor right at the source. The Dead Down Wind™ Antiperspirant focuses on eliminating odor right at the source so you can stay field-ready when it matters most.
---
In The Field Products
These products are intended for wild game to smell so that their olfactory systems are manipulated. We offer two different kinds of products that do this.
Nose Jammer
Nose Jammer contains Vanillin and other natural aromatic compounds that have the ability to effectively jam an animal's sense of smell. The compounds used in Nose Jammer are not alarming to game animals because they are found in lignin, a major support structure for all trees, grasses, and shrubs. The key is taking these prolific compounds game animals are conditioned to and delivering them at concentrated levels to overload the olfactory gland found in an animal's nose.
Our favorite Nose Jammer Products: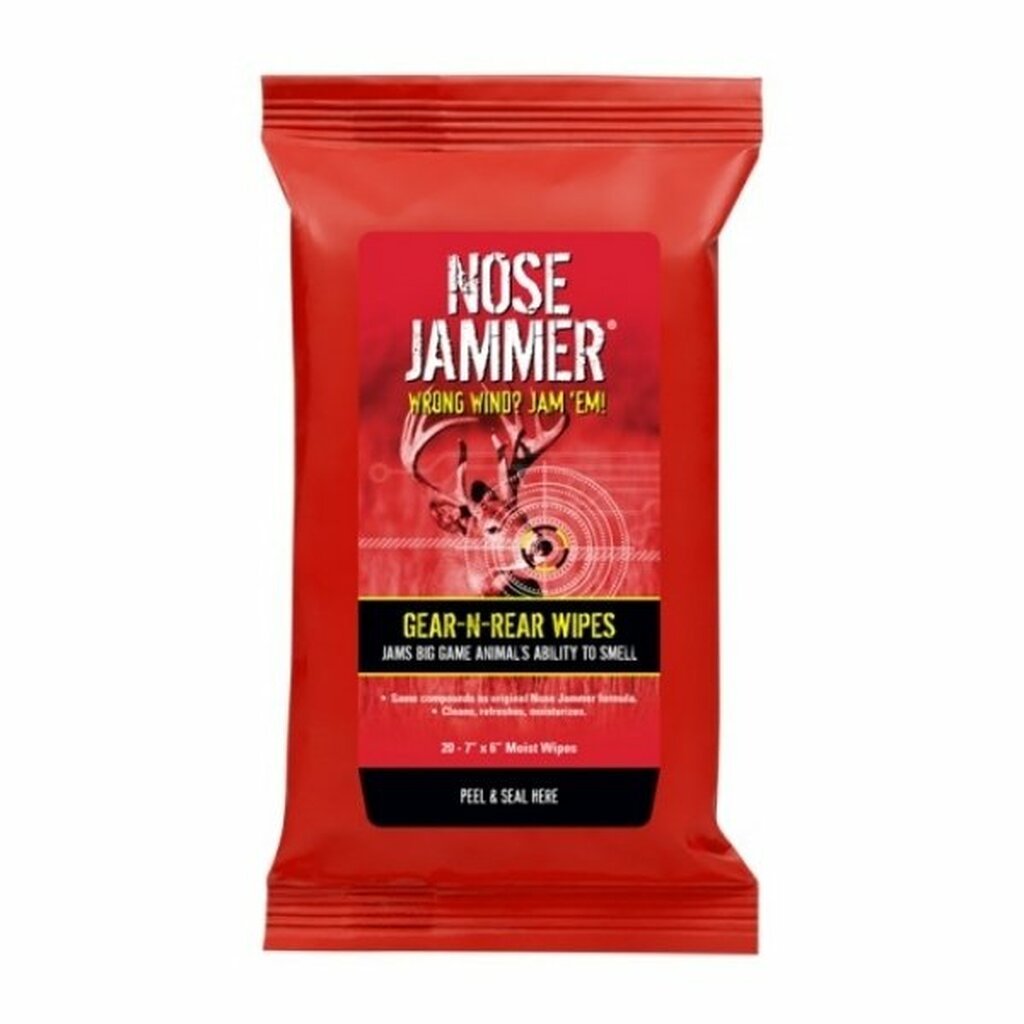 Nose Jammer Gear-N-Rear Wipes make cleaning up in the field easy. Our wipes are made with the same secret formula found in all Nose Jammer products. They are formulated to be used on your body as well as your hunting gear. Each package contains 20 - 7" x 6" wipes.
---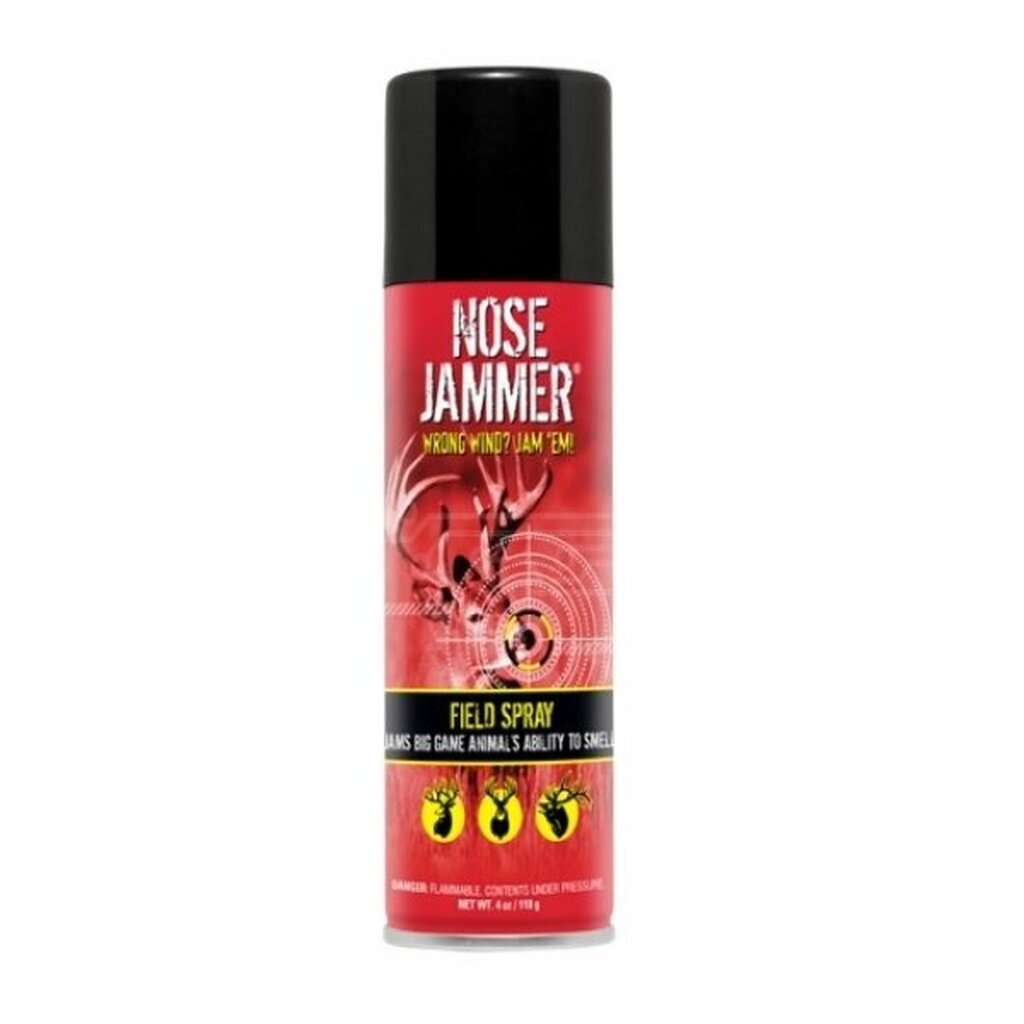 Nose Jammer Aerosol Field Spray
Nose Jammer creates a cloud around you which jams big game's ability to detect and track human odor. Nose Jammer should be sprayed on clothes, boots, tree stands, blinds and brush. When the wind swirls, critters olfactory gets jammed and they stay unalarmed. Works on all critters with a nose!
---
Scent Thief
Scent Thief is a formula that relaxes the olfactory epithelium of animals and shuts down their ability to smell. The evaporation of Scent Thief into the air is how the formula enters the animals nose. We interviewed Russell Epperson, the inventor of Scent Thief of our podcast and he suggested applying it liberally throughout your hunt for the best results.
Our favorite Scent Thief Products: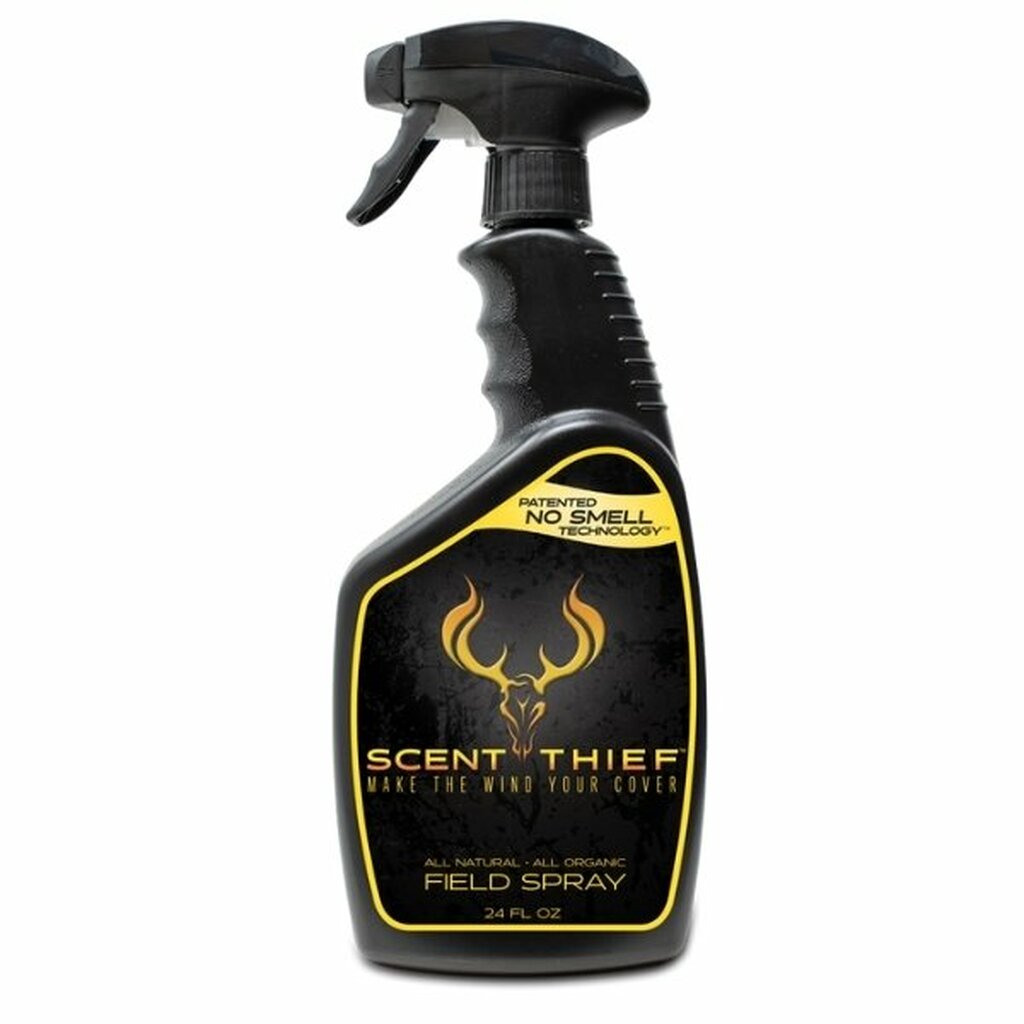 Scent Thief's revolutionary formula is the first and only hunting scent blocker product to completely eliminate an animal's sense of threatening odors. Our patented No Smell Technologyrelaxes the olfactory epithelium, temporarily shutting down an animal's sense of smell. When an animal gets Scent Thief Field Spray in their nose, they won't be able to smell anything else. Guaranteed. The wind can now act in your favor. All natural, all organic ingredients are safe for skin, clothing and the environment.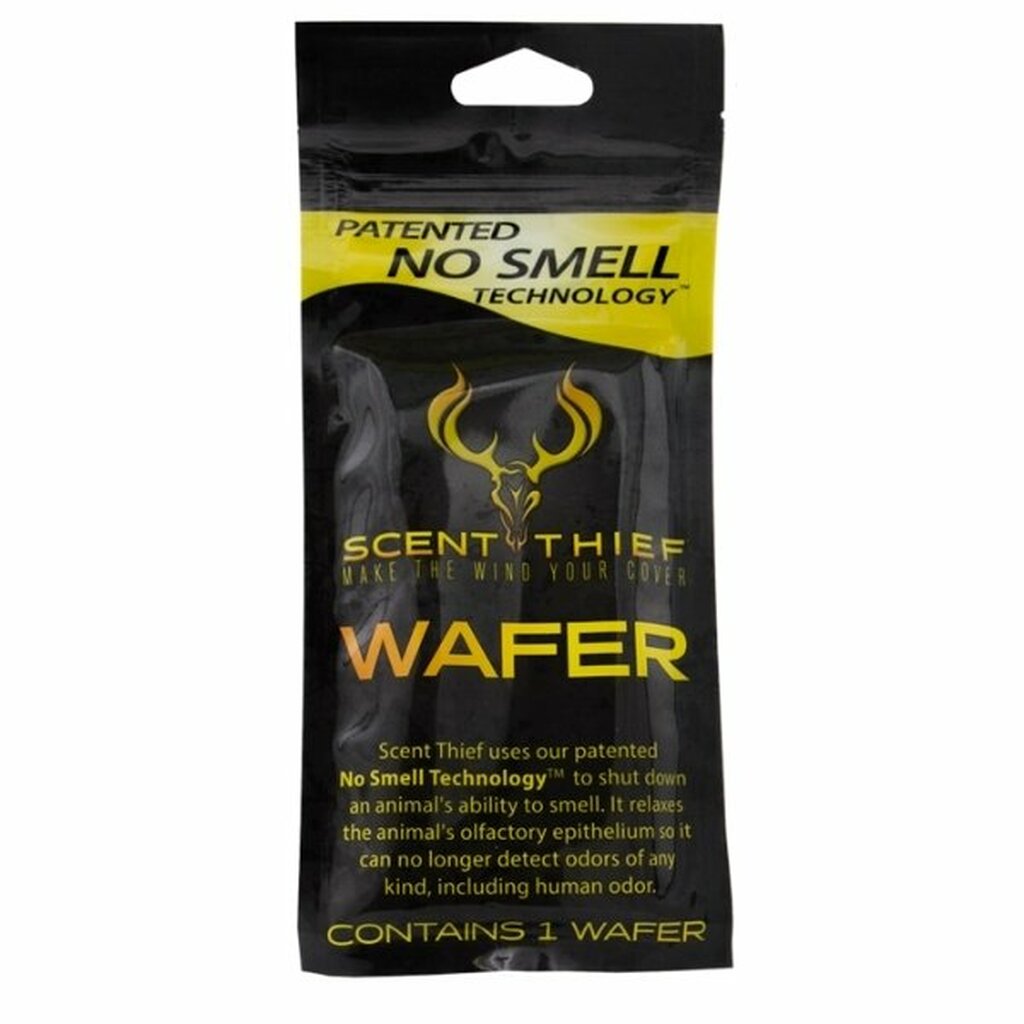 The Scent Thief Wafer is the next evolution in No Smell Technology™. Use the Wafer in the field by hanging it in a tree, up-wind of where your treestand is located. The wind will help carry the Wafer scent and create a "No Smell Area" around you. Use alongside the other hunting scent blocker products to eliminate an animals ability to smell you.
No matter which scent control options you choose, being prepared for a shift in wind while hunting is always a good idea. Shop all of our scent control products here.